Here, in Rio de Janeiro (perhaps in the whole of Brazil), scared by the urban violence rampant growth, a silent phenomenon took our society by assault: the burglar's phone.
At first, I believed I was being a pioneer. Carrying an old, shattered, bricked Nexus 4 on my pocket all the time, just so I'd have something to hand to the burglar when the time finally arrived. It was all planned out in my head: I'd make a short interpretation of despair, and then pass it without further ado. It didn't work as well as I expected, since most attempts happened as I talked at the phone, but it made me feel more secure. I'm known for saying that being robbed in Rio is a matter of if, but when.
Well, I just found out these tactics are actually fairly common. In fact, cheap fakes and bricked phones are being sold throughout the city, marketed as phones designed to catfish lawbreakers.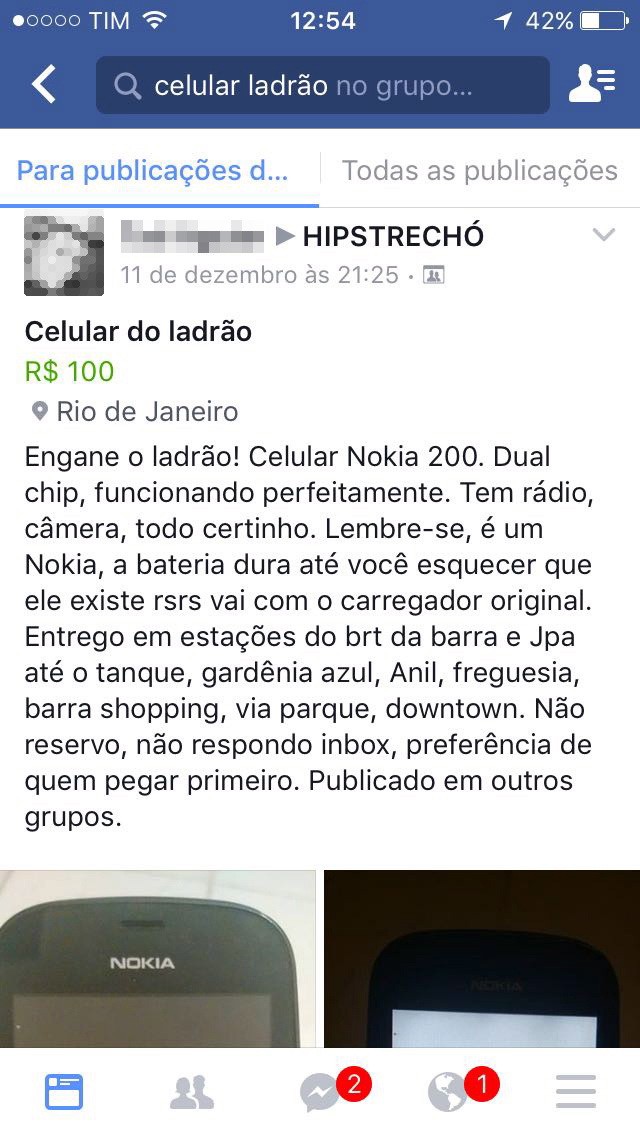 I got to the conclusion that I was part of a larger trend when one of my students at the Pré-Universitário Comunitário Rubem Alves, when letting her iPhone drop all the way to the floor, told us not to worry because that was her "burglar's phone". "It displays the Apple logo but freezes right after", she said, amused. I reacted with surprise, but the other students around her started showing their own fakeouts and talk about often they needed to replace them.
It has become so widespread that the phenomenon got to the big newspapers:
Someone invented a thing called "the burglar's phone". Yep, ladies and gentlemen, we cariocas are, indeed, quite creative. We managed to find a way to use our phones amongst the increasing security risks in our city..
Don't let the sarcastic tone in the article fool you: we are laughing, but we are afraid. Brazil is not a country for amateurs. Be careful when visiting us. Make sure you, too, get your own burglar's phone.
Tweet